Confession No. 1 … I live in The Shire!  Yes that famous hotspot of botox junkies, roided-up tattooed surfers and spoilt rich girls if you believe your TV screens over the past month or so.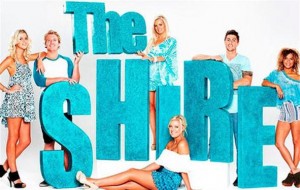 Channel Ten's Jersey Shore knock-off "The Shire" stirred up a tsunami of outrage in newspapers and the Twittersphere when it burst onto our screens in a flurry of fake lips and forced conversation last month.
The collective moral indignation dropped off a bit this week as we turned our high horses on the Olympics to see if New Zealand would beat Australia in the gold medal tally (oh the horror!).
But many locals are still outraged that the larger-than-life characters and plastic fantastic girls, who it turned out didn't actually live in the area, were ruining the reputation of us 'normal' Shire folks. (Your fake lips are giving my fake smile a bad name).
Which begs the question – what is normal?
Our perception of normal is so dictated by our own experiences and personal circumstances that it's actually an incredibly difficult exercise to define a truly normal person/family/home or life.
The little rich girl on the TV show has a daddy who will buy her a BMW if she stays at university. That's her normal. It's definitely not mine … although my dad bought me lobsters for lunch when I was 5-years-old (he was a part-owner in a lobster boat).
Sure, I can stand back and criticise the rich girl and her dad … but the truth is, that's their 'normal' family life.
I recently had a look at the Bureau of Statistics to try and find out what a 'normal' family looked like.  Here are a few stats that I found interesting:
1 million kids in Australia live separate from one of their parents.
Defacto relationships have doubled in the past 20 years, with 11% of couples living together outside of marriage.
2% of the population is in a homosexual relationship.
53% of adults are married.
Everyone else is single and 29% of Australians will never marry.  Many of these will stay defacto, but some will choose to stay single for life.
Interestingly, US studies show that there is a 70% increase in likelihood of divorce if you co-habit before the commitment of marriage, which challenges the 'try-before-you-buy' theory.
Here's some good news you won't have heard…
Since 1996, divorce has been falling steadily, from 2.9 per 1000 people in 1996, 2.6 in 2005 to 2.2 in 2010.
As you can see, defining a normal family is tricky these days. In fact when you really get down to it, defining anything that is the norm is no easy task.
The challenge for many of us in wealthy Western societies such as Australia, USA and England is that so often we forget just how blessed we really are in world terms. Which brings me to the first of two proud moments this week:
PROUD SHIRE MOMENT No. 1 … I went to hear a friend of mine Glenn Harvey talk at a school this week about ending world poverty. He explained that that over 1 billion people on earth live on less than $2 a day (that's $2 in their own currency in case you were thinking that it was a lot of money in Africa or India). Just enough for a little bit of rice and vegetables … OR just enough for a little bit of medicine (with that the decision to be made on a day-to-day basis).
As I listened to a local lad inspire Shire teenagers to help people around the globe, I couldn't help wish that the TV cameras were there to capture what was really happening in The Shire. Yes it's a funny old area, but there's a bunch of good people with a heart to help.
PROUD SHIRE MOMENT No. 2 … sitting in a packed Greater Union cinema this week for the world premiere of a new movie "Blink".  It's a mysterious little gospel movie made by Mark Pedlow, Jared Platfoot, Nadine Denten and around 50 other volunteer cast, crew and musicians that kept everyone guessing right until the end when the 'twist' tied it all together. A brilliant piece of writing, editing and acting by the Shirelive RedInc crew (especially those two cute kids, but I'm biased).
It was a packed house to see a movie that wasn't the normal run-of-the-mill flick … it was better!
Normal is a myth. So enjoy being different and look for ways to assist others who society might not call normal. As I tell my boys on the morning walk to school: stand up for those who cannot stand up for themselves, speak up against injustice (Prov 31).
My first novel 'The Deep Enders' released 2016. Available on Amazon and in print.