"A gripping read that will have you on the edge of your seat."
– BookBuzz Magazine

"Amazing writing … you'll love it. 4.5 stars!"
– Grace Radu, Booktube

"Best book I've read in my life!"
– ProjectJ&G (YouTube)

Book critics and YA readers alike are raving about The Deep Enders – an action-packed mystery set against the backdrop of one of Australia's greatest hidden tragedies.
Which is a relief because book critics, by the very nature of their job title, can be quite critical of books at times. Thankfully they're loving this one. Here's the latest review in this month's edition of The Book Curator magazine.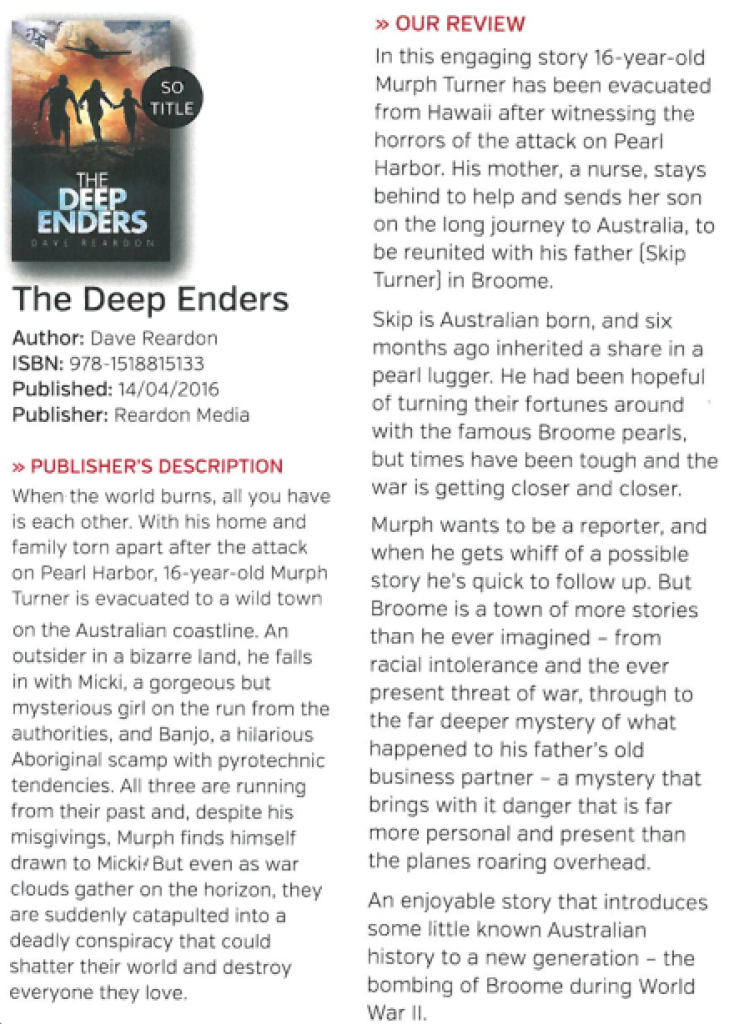 And more great news, The Deep Enders is now distributed nationally by one of Australia's biggest booksellers, Dennis Jones and Associates. So if you own a bookstore (or you want your local QBD, Berkelouw, Dymocks or Collins etc to order it in) then CLICK HERE.
The same goes for libraries in Australia and NZ, where you can ask your local librarian to order copies from these distributors:
JAMES BENNETT
SOUNDTEXTMEDIA
DLS
ALS
WESTBOOKS
PETERPAL
And of course for the rest of the world, you can get it on Amazon, Kobo, Walmart, Barnes & Noble, Booktopia, iBooks and The Book Depository.
My first novel 'The Deep Enders' released 2016. Available on Amazon and in print.