Over the years, I've written several books – initially as an indie author and later on with a traditional publisher – as well as ghostwriting half a dozen titles for some fascinating people.
My latest Young Adult novel – "THE DEEP ENDERS" is in stores now around Australia and New Zealand (Check it out here: Berkelouw, Gleebooks, QBD, Dymocks, Harry Hartog).
The Deep Enders is also AVAILABLE WORLDWIDE through iBooks, Amazon, Kobo, Barnes & Noble & The Book Depository.
The Deep Enders is the story of three young people who are trapped in a tiny Australian coastal town during World War II.  All are running from their past and together they forge an unlikely friendship. But even as the Japanese military storms closer the trio are suddenly dragged into a murderous quest for sunken treasure and must risk everything or lose everyone they love.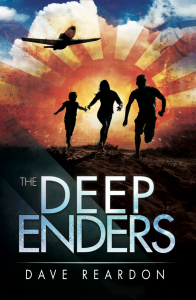 Ebook is available now for pre-order, release date April 23 2016

Or register below for early bird price on paperback, release date April 23 2016