This is my first short post on what could be a long blog about leadership, life, humour, writing, family and other stuff.  I'm typing as the world is in the throes of Olympic fever … well it should be, if it wasn't all a bit dull and somewhat tainted by the slinging match between super powers over which athletes they suspect are drug cheats.
After a fantastic opening ceremony, full of English humour and irony (think Mr Bean and the 'Chariots of Fire' mash-up), the actual main event is lacking something (especially for us Australians still hoping to win a couple of gold medals in the post Perkins/Hackett era).  At least the women's 4x100m freestyle broke the pool drought & hopefully Steve Hooker will put on a good show in the pole-vault.
But for me, the greatest Olympic moments have always been about underdogs … quirky characters with more personality than ability, usually named after animals … guys like Eddie the Eagle and Eric the Eel.  A Winter Olympic ski jumper who more hovered than flew and Olympic swimmer who really couldn't.
And speaking of people called Eric (sweet segue hey), how inspiring is Eric Liddell, the main character in 'Chariots of Fire' who won a gold medal at the 1924 Paris Olympics.  An incredible sprinter and rugby player, the Flying Scotsman hit a major snag in his preparation for the Olympics when he realised that the heats for the 100m race would be held on a Sunday.
Liddell was a man of great faith (he was a popular preacher on Scottish universities) and wouldn't run on the Sabbath, despite some serious pressure from the media and ruling elite of the day.  Instead he just shifted his focus to a completely new event – the 400 metres.  And it was in this event that he won gold.
He was hailed as a national hero but when the dust settled Liddell packed it all in and moved to China in 1931 to be a Christian missionary, where he met his wife and they had three girls.  The years that followed were full eternal purpose until WW2 struck and the Japanese invaded China.
Liddell managed to get his young family out of the country but he was captured and put into an internship camp. He quickly rose to be the leader of the camp, stretching out his hand to help the elderly source medical supplies and organising education for the young prisoners. He died in 1945 shortly before the end of the war from malnutrition and brain tumour.
Interestingly, at the 2008 Olympics in Beijing, the Chinese Government announced new information had come to light that Liddell had actually been given an opportunity to leave the internment camp after lobbying from British Prime Minister Winston Churchill.
But Liddell negotiated that instead of his release, a pregnant woman in the camp would take his place.  Greater love has no man than he lay down his life for a friend.
A true Olympic Hero!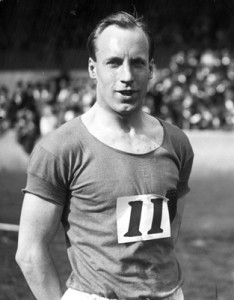 My first novel 'The Deep Enders' released 2016. Available on Amazon and in print.